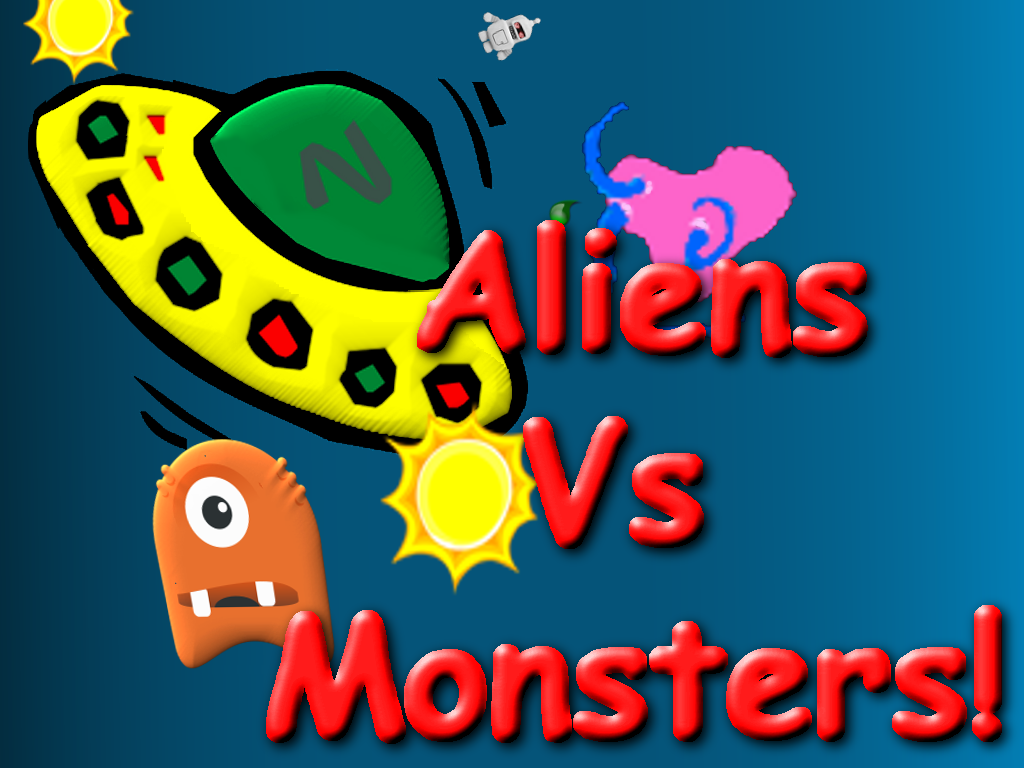 Description
In Aliens vs Monsters! you pilot your very own UFO! Your mission is to defend the universe against hoards of monsters invading from another dimension. Smash enemies with your glowing Power Orbs and drag them into a Black Hole using your tractor beam.

This game is kid-friendly and easy to learn with cool graphics and sound. Simple on-screen tips guide you through each level - complete levels early for a bonus score.

Have Fun!
Features Include:
☆ Tablet Support
☆ Kid-friendly
☆ 30 Different Levels
☆ Kid-friendly
☆ Challenge levels
☆ User preferences
☆ Saves high score for each level

Features Include:
☆ More levels, including Challenge levels
☆ Added level choosing with icons/indicators
☆ Tweaked difficulties
☆ Fancier levels: Coemts and vulnerable ship at higher levels
☆ Bonus levels
☆ Improved black hole spiral-down
☆ Enemies on the way down black hole now counts as dead


Instructions
Initial menu options:
• START - Start at first Level
• CHOOSE LEVEL - Go to Level menu to choose a specific level to play
• OPTIONS - Show the Options menu
• INFO - Show info about Aliens vs Monsters
• QUIT - Exit game

Follow tips at start of Level for info relative to that level.
Options menu:
• MUSIC - Toggle game music on/off
• SOUND EFFECTS - Toggle sound effects on/off
• INPUT - Toggle between Virtual Joystick or Swipe control. With Virtual Joystick, you use a graphical joystick control in the lower-right to navigate. With Swipe, you can start with your finger anywhere on the screen and drag in the direction you want your UFO to move.

Levels menu:
Scroll through list of available levels. Tap a level to play.
Completed levels are marked by a check and indicate best score for that level.
Level button is decorated with icons indicating type of level and special challenges:


Power Orb level


Black Hole/Tractor Beam level


Level includes dangerous comets


Indicates your ship is vulnerable to collision with enemies


To Pause game-play during a level, tap your device's Menu button. This displays the in-game menu. Tap again to resume.

In-game menu options:
• REPLAY LEVEL - Start current or just-finished level over again
• CHOOSE LEVEL - Go to Level menu to choose a specific level to play
• OPTIONS - Show the Options menu
• QUIT - Exit game





Features coming Soon:


• Smart aliens
• Additional Levels
• New weapons
• Public score rankings


We appreciate any feedback you provide towards the improvement of this app. Email us at: support@practical-apps.com

Screenshots




Some game images came from openclipart.org
Game sounds came from freesound.org



Visit the Android Market on your Android device and search for "Aliens vs Monsters"