Features:
Simple, drag-and-drop, cut-and-paste programming of AR-16.
Support for up to the full 128 relays supported by the AR-16 and expansion cards.
Ability to save sequence programs to different profiles and open them later.
Ability to zoom in and out - see the big picture or zoom in for granular resolution down to aproximately 1/20th of a second**.
Choose whether to cycle continuously, or stop after one cycle.
Insert pauses into your sequence (of 1 to 2 billion seconds).
Supports connection of AR-16, and Pencom boards via any standard Windows COM: port. Supports Arduino over USB serial. Automation Modules (X10 CMA11 or Insteon Smartlinc required).
Start, Stop, and Pause your programmed sequence on demand.
Ability to auto-start a sequence when the program launches.
Version 3.3 now includes some support for "hacked" strings of GE G35 Christmas lights (see and this )
Screen Shot: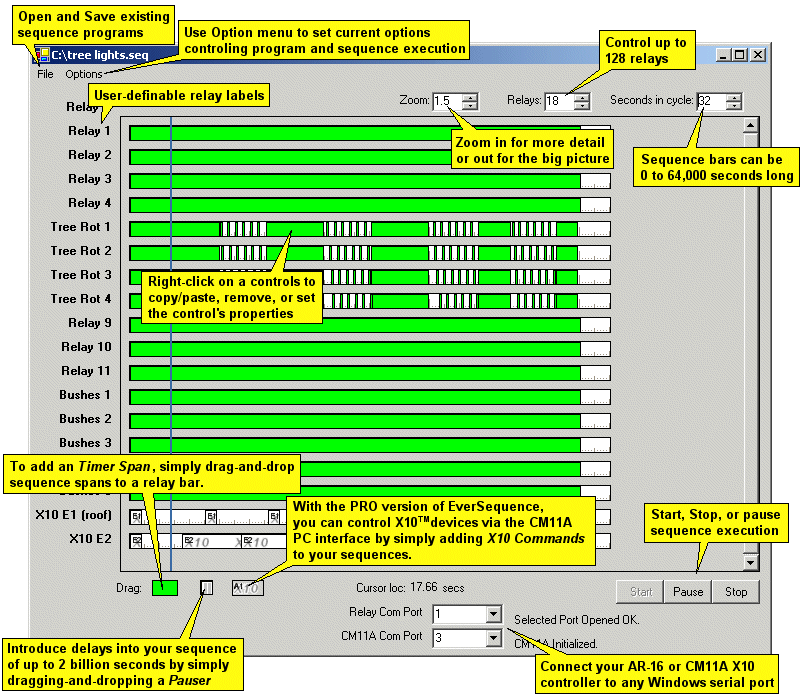 Requirements:
At a minimum, you will need the following to use EverSequence to control an AR-16 relay interface:

A Windows PC with a 1.2 GHz CPU or better recommended
256 MB RAM
25MB of available hard drive space
Microsoft Windows 98, XP, 2000, or Windows 7 operating system
At least one available serial port (COM: Port)for X10 or Pencom

If you have purchased the Pro version of EverSequence and intend to control X10 appliances, you will need the X10 CM11A PC interface and an additional serial port.

EverSequence relies on Microsoft's .Net Framework Version 1.1, which will be installed automatically if it is not already on your machine.

NOTE: I am no longer actively marketing EverSequence, but am now proving a free download of the full version.

If you're interested in licensing EverSequence or purchasing source code, contact me at sales@practical-apps.com
** Note that EverSequence does not provide scientifically precise timing. Timing may be affected by the performance of the computer where you are running EverSequence.